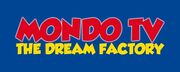 Mondo TV
possesses one of the largest animation libraries in Europe with more than 1,600 episodes of animated television series and more than 75 feature-length animated films for movie theatre and home video that it owns outright for all the world, and over 5,500 episodes in distribution of famous Japanese animated series. They're produced by Mondo TV have always set themselves apart by their top-flight educational value and the fact that they do not have violent, offensive, and immoral contents.
Films
Special Releases
Seven of those special releases were used from the animated series, Super Little Fanta Heroes.
Pocahontas
Hua Mulan
Quasimodo: The Hunchback of Notre Dame
Hercules
King David
Ulysses
The Thief of Baghdad
Television Series
1980s
1990s
2000s
2010s
Languages
Ad blocker interference detected!
Wikia is a free-to-use site that makes money from advertising. We have a modified experience for viewers using ad blockers

Wikia is not accessible if you've made further modifications. Remove the custom ad blocker rule(s) and the page will load as expected.